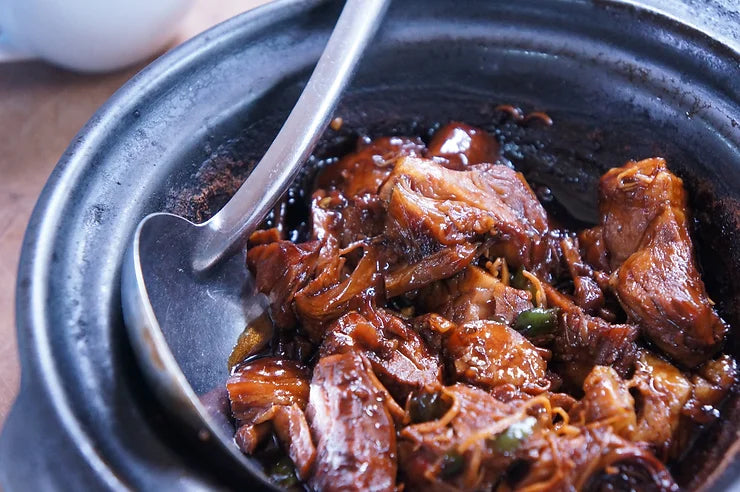 This recipe found us years ago and we've served it to just about everyone. We hope you'll love it too! It's based off a Cook's Country recipe from 2007, but we've tweaked it over the years for our tastes.
The best part? It includes coffee as a recipe! The professional chefs decided the coffee gave a deep, rich flavor. We agree.
Ingredients
5lb roast (beef or pork)

4 slices of bacon
1 onion, chopped
2 T chili powder
1 T paprika
1 1/2 C brewed coffee
1 1/2 C ketchup
1/4 C brown sugar
2 T brown mustard
Instructions
Cook bacon in large skillet. When bacon is done, remove it from the pan. Add in the onions and cook in bacon renderings until soft.

Add chili powder and paprika and cook for an additional minute.

Stir in coffee, ketchup, brown sugar, and brown mustard. Stir gently until all ingredients are well combined.
Let sauce simmer for about ten minutes. It will thicken.
Add roast to slow cooker insert, and turn it on low. Decorate roast with bacon. Pour sauce over the roast and let cook for many hours (8 hours is a good estimate). You may want to reserve one cup of the sauce from the cooking, and keep it in the refrigerator while the meat cooks. You can then add it in just before eating.
Serve on buns of choice. We love a good pretzel roll. Oh, and add cheese!
You may also want to add in additional ingredients to suit your tastes: jalapenos or red chili flakes if you like heat; cocoa powder for additional depth (just a tablespoon!), or vinegar if you want more tang. This recipe is forgiving and will develop with you over the decades.
Happy eating!