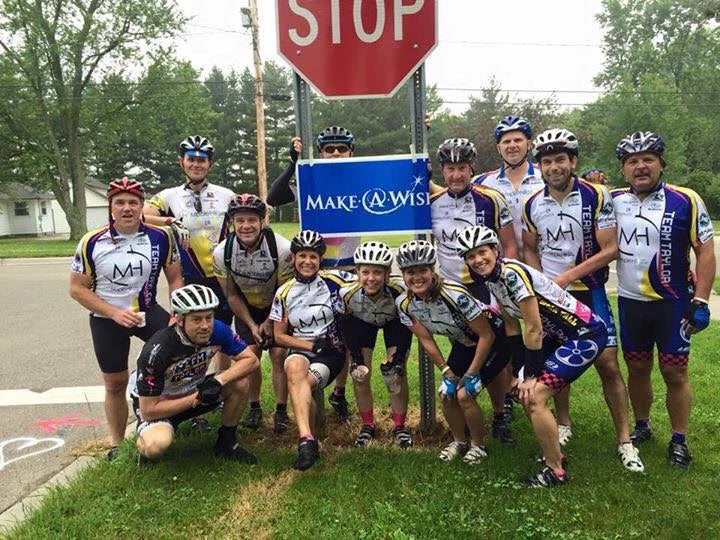 We believe in giving back to our community! 2019 marks the eighth year our founder, Ron Martin, rides in the Wish-A-Mile bicycle race, a three-day, 300-mile event across Michigan. As part of the Make-A-Wish program, this fundraiser makes wishes come true for critically-ill children across Michigan. You can learn more about WAM here at their website: WAM 2019.

More than a thousand racers join together, covering territory from Traverse City to the Eaton Proving Grounds. Pushing through the heat and humidity of a Michigan July, each rider draws awareness to the Make-A-Wish program, and kids are the ones who benefit!
Here are some of our favorite photos of past races. Your support helps make a HUGE difference!
And you get to be a part of this fantastic program. Just by supporting Ron's Beans and buying delicious coffee, a portion of each sale is donated back to WAM each year. (Don't worry. If you're not into 300-mile rides on your bike, you don't actually have to ride in the race. Ron has you covered.)

We pull some of the proceeds from all our sales and donate them to WAM, but Ron also has a fundraising link. If you'd like to donate directly, we'd love to have you on our team. You can click this link to be a part of something important for Michigan children: Ron Martin's WAM Fundraising Link.

There are so many ways to get involved. You can actually ride, you can donate, or you can sip delicious coffee from Ron's Beans. Thank you for your involvement. We couldn't do this without you, and we appreciate you.